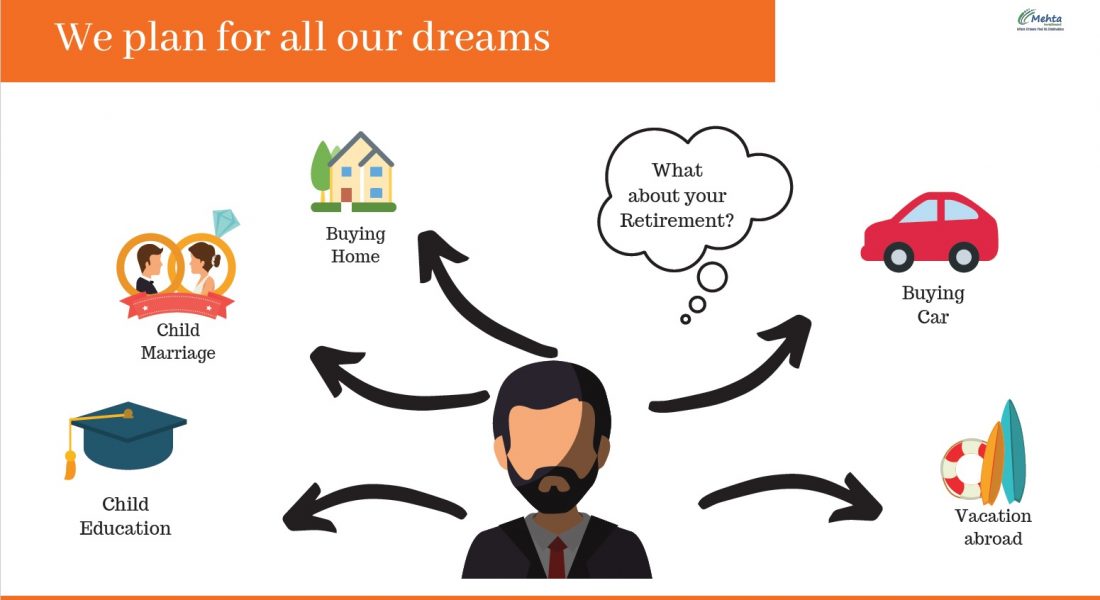 Three Quick Takeaways for Happy Retirement Life!
Thankfully in World full of easy and quick solutions – We have EMI available to literally afford lot of things which otherwise would have been out of reach. To give few examples – Buying Car, Vacations abroad, Buying Expensive smartphones, Child higher education, destination weddings, etc, etc. (P.S. Biggest Mistake– Taking Debt to cushion lifestyle. That's a whole different story and will cover next time)
But how about Retirement, Retirement, Retirement?
1.Retirement is most expensive financial goal then why not plan to finance that ahead?
There are many options to consider for investment for retirement planning like SCSS (Senior Citizen savings scheme), POMIS (PO Monthly Income Scheme), Fixed deposits, Insurance pension plans, ULIPS, Mutual Funds, etc.
Right Asset Allocation is required for manages risk-return profile of your portfolio. Here, we will focus on planning for retirement with: SIP in MF (Mutual Fund) + SWP (Systematic Investment Plan + Systematic Withdrawal Plan)
Easy Two Steps Process –

Can you postpone getting old? Then why to postpone planning for retirement!
1. Accumulate the retirement planning through SIP Investment in Mutual fund equity for long term.
2. Switch the retirement corpus on retirement from equity to debt MF & start withdrawing monthly basis through SWP
2.What are key lessons for retirement?
Habitually people don't save and plan ahead for their retirement, with hope that when the time comes, employer benefits will be enough. However, check thoroughly and you will realize they will not cover all your retirement needs.
For Example: My Grandfather devoted 50 years of his working life for his organisation. He always assumed employer will take care of all his needs forever. But when he finally retired at age of 65 he was left with money just enough for his survival and when medical expenses mounted he had to completely rely on son and daughter. He never took medical insurance apart from the one that he got from employer. He took his expenses post retirement for granted and thought gratuities and pensions would be enough.
Retirement can be overwhelming. You have time to explore everything but the burden of questions like would we be left with enough for remainder of our life if we use so much money now will keep surfacing and troubling.
Five lessons I learnt from his mistake*:
Start saving for retirement, not just save but save wisely(don't just rely on PPF, Pensions, insurance, etc – Get a Financial advisor who is your Wealth Doctor and knows it all
Start to save early -As early as beginning of first job, remember you are giving time for compounding
When young take risk – when you are young you can take risk and earn higher returns by investing in equity markets. But by putting money in FD or debt in young age you are limiting the compounding and growth.
Understand the fine prints – Relying casually on anyone may end up having investment products which are mis-sold to you for someone's gains, be well informed, trust facts not people. An advisor who is open to answer all your queries and empower you with knowledge is one to go to
Never spend from retirement kitty – Deja vu! You have saved for retirement… but at no cost be lured to make any expense out of that fund even financing for wedding or education. Why, it's important to do goal based planning wherein you save something for all your needs. Money you lend as help to friends or family wherein there is no scope for repayment is worst thing you can do for your own happy retirement.
Five Step plan for happy retirement:

3. How much corpus I need for retirement:
This is all based on assumptions. One can contact us to make customized retirement plan for oneself. Retirement plan is not like "One solution fits all". Hence, connect with financial advisor for it. However the following illustration is for reference and understanding –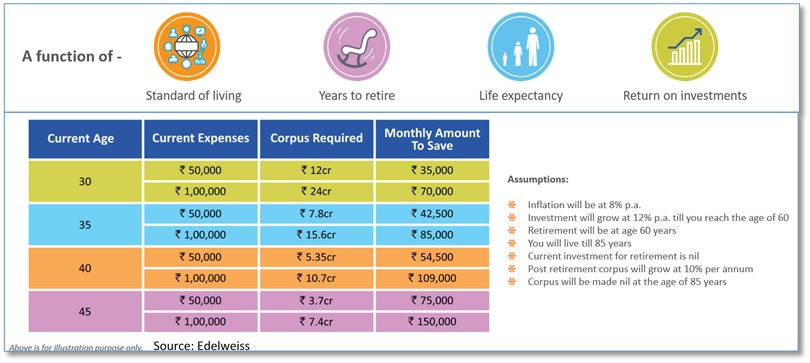 *Few excerpts taken from financial express
Follow these key lessons to enjoy your retirement life without compromising on your current lifestyle or relying on anyone for your needs.
I don't' have Money, sounds like you?
Key takeaway for saving for retirement can begin from smallest effort like