6 MAJOR BEHAVIORS – STOPPING YOU FROM INVESTING!
दुख में सुमिरन सब करे, सुख में करे ना कोय |
जो सुख में सुमिरन करे, तो दुख कहे को होय ||
In anguish everyone prays to Him, in joy does none
To one who prays in happiness, how can sorrow come
As I sit to think about this, it makes me wonder how beautifully this "Sant Kabir's" verse implies to lot of things and behaviors in our day to day life which can even include managing savings and investments.
We all have been off late thinking more about spending than savings and investments. EMI's and loans have seen such a huge welcome that many of us are trapped in world of debts and over spending whilst living over leveraged lifestyle. When contingency comes we have to ask for help from family and friends whereas when extra money was available, same could have been saved, invested and kept for hay days.
As they say, "make the hay when sun shines"
We all know "Boond boond se sagar bharta hai" but What is it that stops us? Why so much pessimism when it comes to our financial health? One should learn, re-learn and keep learning about saving right and investing appropriately.
If you wish to make a fortune, nothing can prevent you except you. I have come across people who have some or the other reasons for not investing and engaging in financial planning.
But what they forget to recognize is, they're risking their long-term financial well-being and are allowing inflation to erode the purchasing power of their hard-earned money.
6 behavioral biases we come across while asking people to check their financial well-being is:
I am saving enough already, I am not left with any money now.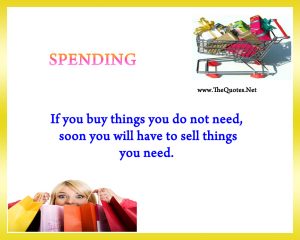 But when asked about do you have goals? The reply always is affirmative but as soon as we ask are you planed enough to fulfil your goal… I am afraid to mention but answer is seldom a "BIG NO". Most common goal which people tend to ignore is retirement planning and contingency planning. You may be saving but if you are saving without assignment of goal mapping than sorry you are very unorganized and nothing is going to look like sailing smooth.
Other reason why people do not seem to have money for important goals in life is because of nature of spending on unnecessary things. As As Benjamin Franklin rightly said, 'It is better to prevent habits than to break them'. You need to use your hard-earned money wisely by engaging in prudent budgeting exercise. Learn from the old saying: money saved, is money earned.
2) I do not understand how to plan, it is very scary!
Scary! Yes, so many have at young age have this habit of getting scared with numbers. Inflation is real but when you explain inflation and come up with figures required for Term plan or retirement plan, people get scared of big numbers. What does that mean, which simply means one is not ready to accept the reality!
All you have to do to get help on regular planning and seek some professional help. The only way to accomplish those dreams is by working towards it. Nothing happens overnight. So if you want to buy that Dream house, car, self fund wedding or anything, everything is possible with prudent planning.
"FAILING TO PLAN IS PLANNING TO FAIL" – Alan Laken.
Do not be scared to start to plan, "If the plan does not work, change the plan, but never the goal"
To build wealth and fulfill the envisioned financial goals you ought to invest regularly and with needed discipline. And believe me, opting for Systematic Investment Plans (SIPs)——a mode of investing in mutual funds——is one of the best ways to go about.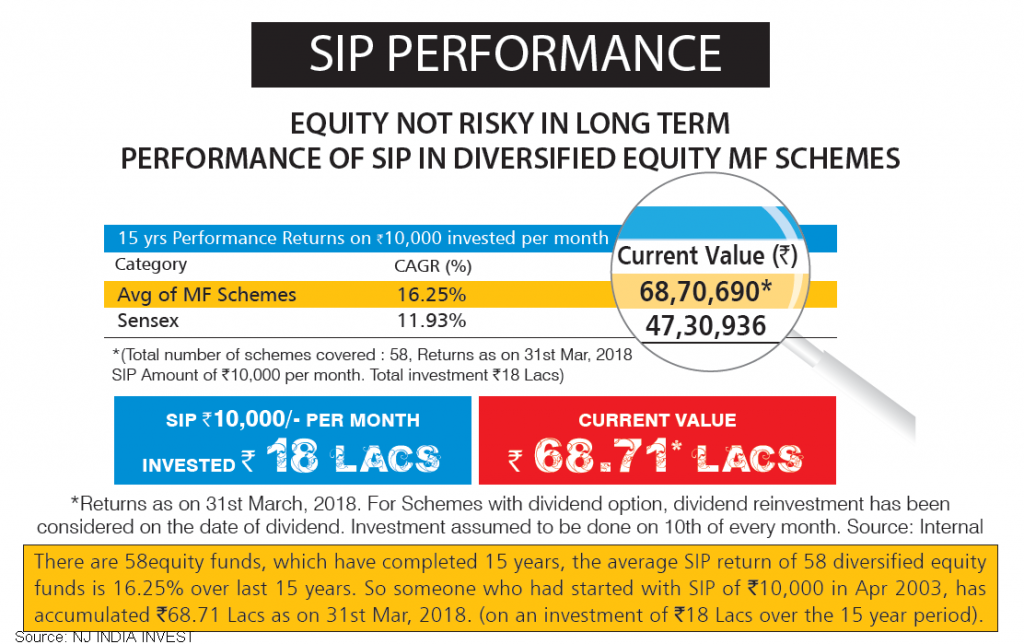 3) I have poor luck with stock markets, it is too risky to invest in mutual funds.
So clearly based on past experiences, you are judging for yourself that stock markets are not meant for you. Mutual funds is not just stock markets, Mutual funds combines of Equities, Debt and Balance Mutual (Mix of Equities and Debt). Based on one's risk appetite one can select the type of mutual fund one want to invest in. Mutual funds especially Equities as an asset class plays a very pivotal role in long term. If one invests wisely, it can help big deal in generation and accumulation of wealth and can counter inflation effectively. If you do not invest in equities (stocks and/or equity mutual funds), you will regret in the long run, particularly during retirement.
If you select the suitable mutual funds for your investment portfolio and make it a point to invest in mutual funds you can generate appealing inflation-adjusted returns (also known as real rate of returns).
Mutual Funds are subject to market risk, read offer documents before investment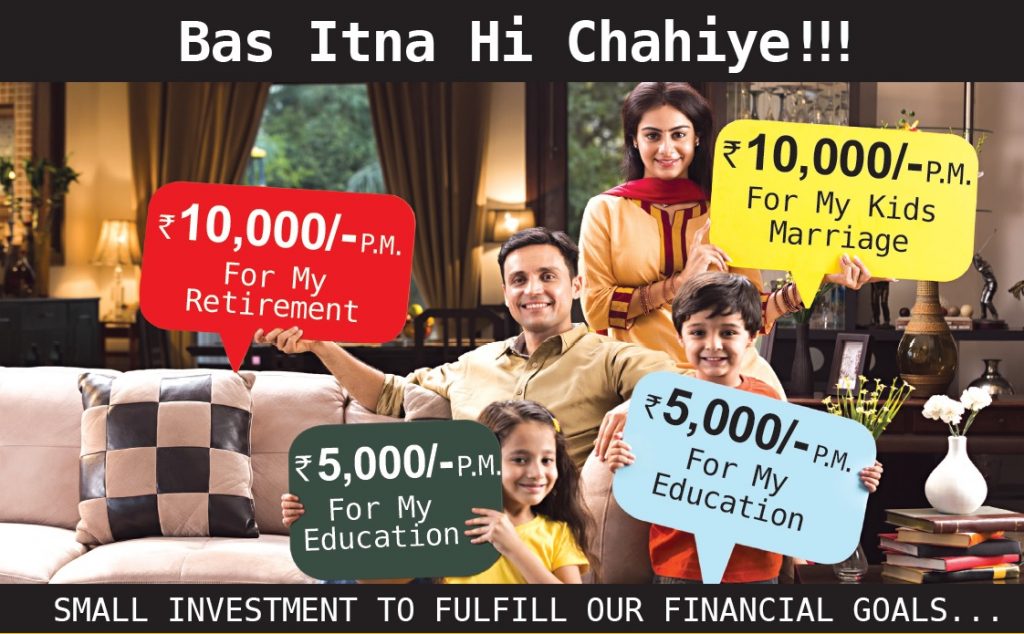 4) Misconception of – I am already well invested!
Many family heads we meet seem to be very happy that we are already well invested. When asked about where, the answer generally is real estate. But my dear friends, real estate cannot be liquid when money required on urgent basis. Its different asset class which has no relevance with investment in Mutual Funds.
It i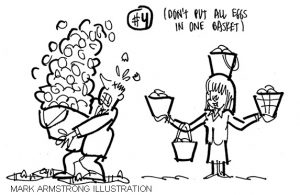 s very important to not put all the eggs in one basket but rather diversify so that you don't lose out everything at once.
In simple terms, it refers to how much portion of your investible surplus should be allocated to various asset classes such as equity, fixed income, gold, and real estate.
Personalised and prudent asset allocation plays a crucial role in optimizing risk-adjusted returns.
5) I do my own research, search engine has all the answers
Yes, search engine can give lot of information, but sometimes over information can lead to confusion and too much data can leave you taking wrong decision. Search engines can give you information but not knowledge to suit your situation which is very subjective. Search engine can help you find videos of hair cutting but can you do hair cutting on your own? You can also find lot of education videos online but will you not send your children to school rather let them follow these videos?
A comprehensive research and a need-based approach are essential to pick the best and suitable investment avenues. Do not follow the herd or blindly accept what is been said; there are chances of biased and mislead views.
Even when you rely on external research reports, carefully ascertain their business model and their intentions behind recommendations.
6) Let life unfold, I do not want to stress right now about financial planning and all
"Dreams don't work unless we do" One should allow themselves to dream and to achieve. Especially because you have power to achieve. Procrastination has hardly helped anyone ever.
Don't neglect to invest or take right guidance and professional help or be lazy or assume that you are too young to invest and let enjoy life.
By delaying investments, you lose out on several years of creation of wealth. Time plays a vital role to help your money grow. If you start today, you'll have a more time horizon to accomplish your financial goals and that can help you benefit from the power of compounding. To understand the effect of the power of compounding, let's look at an example of Ram, Shyam and Laxman.

*Maturity Value considered at Age of 55 @10% Interest
The above example is merely an illustration to explain the benefit of investing at an early age. Assume SIP returns are done regularly every month. Mutual Fund investments are subject to market risk.
In above example Ram could earn almost double of Shyam and almost triple (3X) higher than Laxman despite of investing same amount and earning same returns. The major difference why Ram could make such huge wealth is because he gave lot more years than others. Also note that Ram had shelled least per month contribution.
For Laxman to catch up with Ram because of his delay in time, he will have to invest somewhere which can fetch him approximately 32% returns which is very meagre probability.
Hence, the sooner you start, the better it is for wealth creation. So, make the most of it by investing now!
To conclude, break away from these behavioral biases before it's too late. The sooner you make wise financial decisions, the closer you would move to financial freedom and be a successful investor.
Beautiful lines by Mrs Douglas Malloch – take this as learning lesson not only for financial management but for life 
I nibble this, I nibble that, But never finish what I am at,
I WORK HARD AS ANYONE, And yet I get so little done,
I would do so much you would be surprised
IF I COULD JUST GET ORAGANISED!!!